GET THE ULTIMATE KICKAPOO RIVER ADVENTURE...
Rent Canoes. Rent Kayaks. Rent Tubes. And get a FREE ride back to your vehicle...
Come alone or bring a large group. Everyone is welcome!
Fall Hours
10am to 6pm
Tuesday, September 6th through Sunday, October 22nd
Due to cooler morning temperatures, we have pushed back starting times to allow the weather to warm up.
Discover how you can get the best Kickapoo River rental experience only with Kickapoo Wild Adventures…
50,000 Rentals
July 23, 2022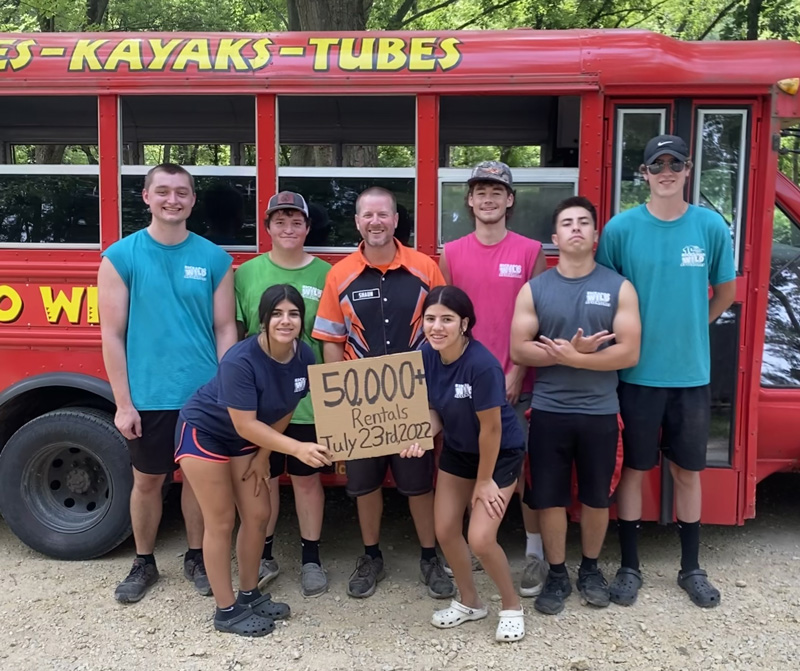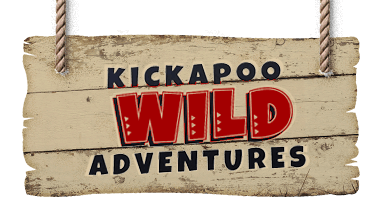 Full-Service Rentals & More
Just look for this sign on HWY 131 (1 mile north of Ontario)…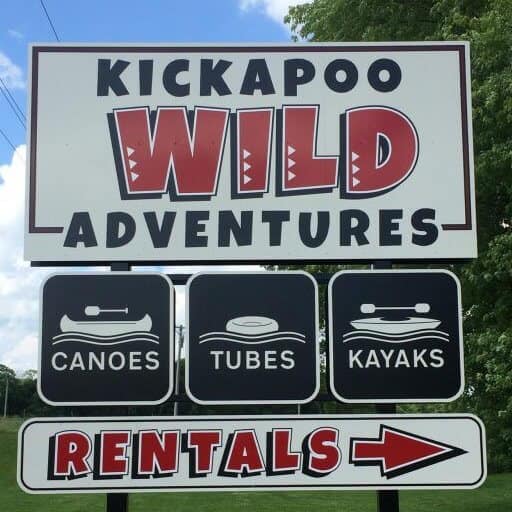 Rent canoes, kayaks & tubes to float down the Kickapoo River
Get your equipment carried for you to the water (even your cooler from your vehicle upon request)
Get assistance getting into your canoe, kayak or tube
And speaking of shuttle service…
Free & Quick Shuttle Service with Rental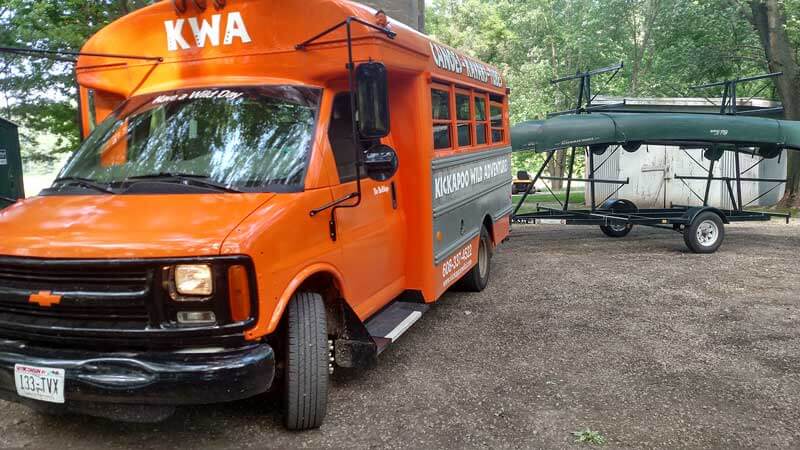 We pick you up and return you to the starting point once you've reached your destination
Minimize your wait time. Pickups are typically within 20 minutes
We've got 5 mini-buses dedicated to pick you up quickly
Want comfort? We got your back (literally)!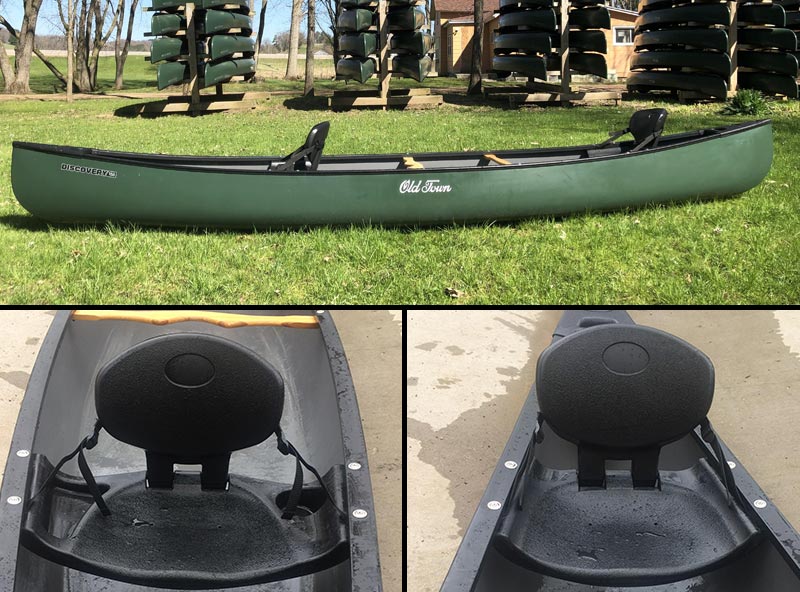 Every canoe we rent comes with a manufacturer's built-in backrest (don't settle for those add-on contraptions)
Backrest is guaranteed in every canoe rental (no waiting around for one to return)
84 new canoes for 2020
All canoes are cleaned after every use

Here's what kind of canoe you take down the Kickapoo when you rent from us..
Discovery 158 by Old Town Canoe and Kayak – For over 30 years the Discovery 158 has been one of our best selling canoes. If you're looking for a tough and rugged canoe, the Discovery 158 is it! Our Three Layer construction is designed to take a beating. But, the Discovery 158 is also designed to perform well on the water. Agile, stable and easy to handle, the Discovery 158 is a nice choice for the outdoor enthusiast.

4.2 stars from Paddling.com
"We deliberately keep our shop smaller to give you the best customer service available on the river. Our #1 focus is making sure you have a good time."
Call / text message pick up!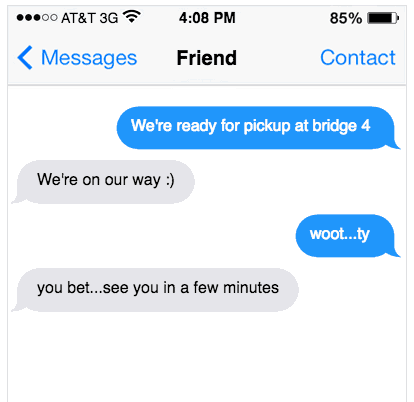 Your rental is for the whole day – You decide how long you want to stay on the water
Just call or text us when you are ready to get picked up and we'll be there for you (if you don't have a phone, we can make other arrangements for you)
Note: We do require all rentals to be out of the water at 6 p.m.
Get your valuables protected for FREE…
We offer a free key-check service so you don't have to worry about losing your keys
We provide free Ziplocs to keep your mobile devices dry
More river. More relaxing.
Because we're the first canoe, kayak, and tube rental shop at the top of the river, you get more time on the water
Less people on the water as you begin your journey
Our starting position gives you approximately 2 hours of tubing or 30 minutes of canoeing, before you start meeting up with other groups along the river
Quality Rental Equipment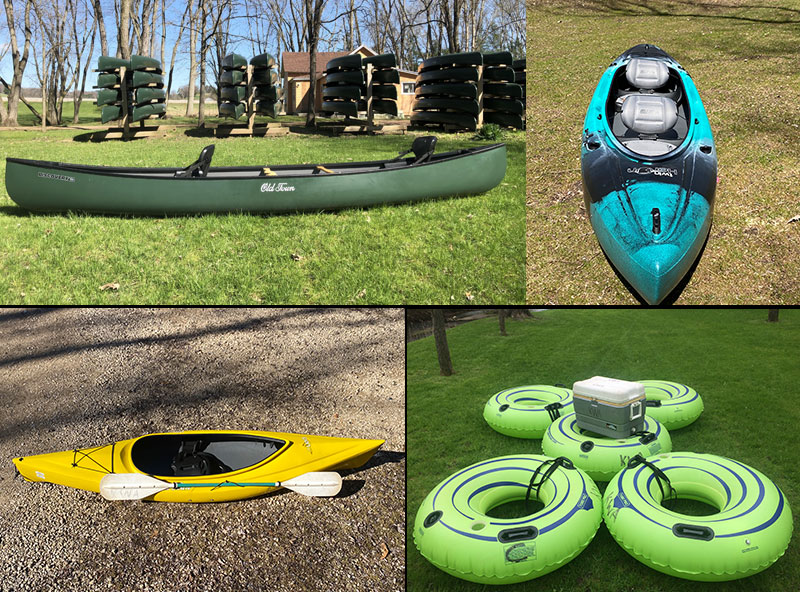 No expense spared on equipment. Top quality canoes, kayaks and tubes to give you the best river excursion
We are meticulous about keeping our rental equipment in great working condition and appearance. We have staff on hand that cleans equipment after every use
Life jackets included with every rental
Caretakers of the river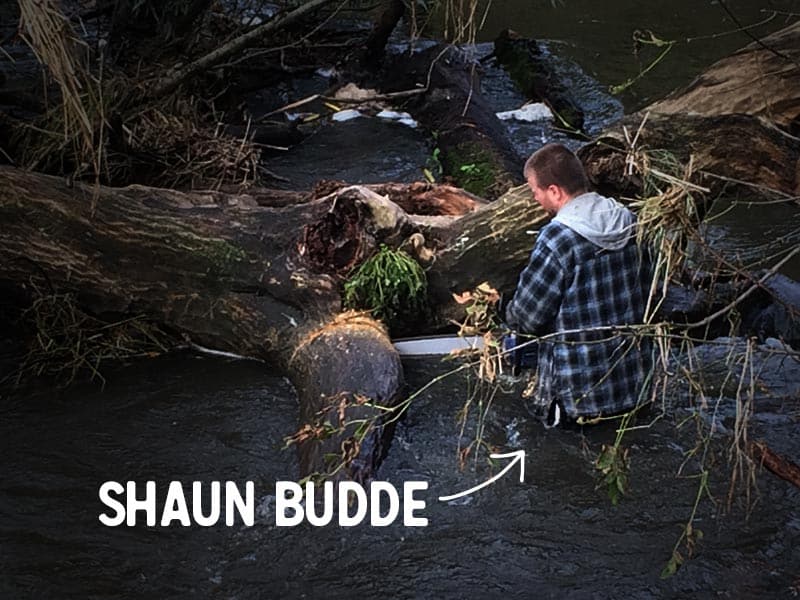 We remove log jams, mow landings and voluntarily collect trash
Our goal is to make sure you have fun, so we do what it takes to make that happen
Explore our rental services